Our engineers have extensive experience working on aero-medical aircraft conversions on both fixed wing (B200, PC-12, Lear Jet 35/36) and rotary wing aircraft (B412, AS365, BK117, EC130B4, S76, S92, AW139). Our experience includes design, manufacture and implementation of products such as:
- "Zero lift" stretcher loading systems
- Stretcher bridge design and testing
- Quick installation/removal cabin seating
- Medical oxygen/suction system design
- Cargo net and cargo restraint systems
- Inhaled nitric oxide system installation
- Neonatal system installation
- ECMO retrieval solutions
Our clients include some of Australia's most respected operators and we pride ourselves on providing functional, user-friendly engineering solutions. Everything we design is customized to best suit your requirements and we work closely with you throughout the entire design phase to ensure that you are completely satisfied with the final solution.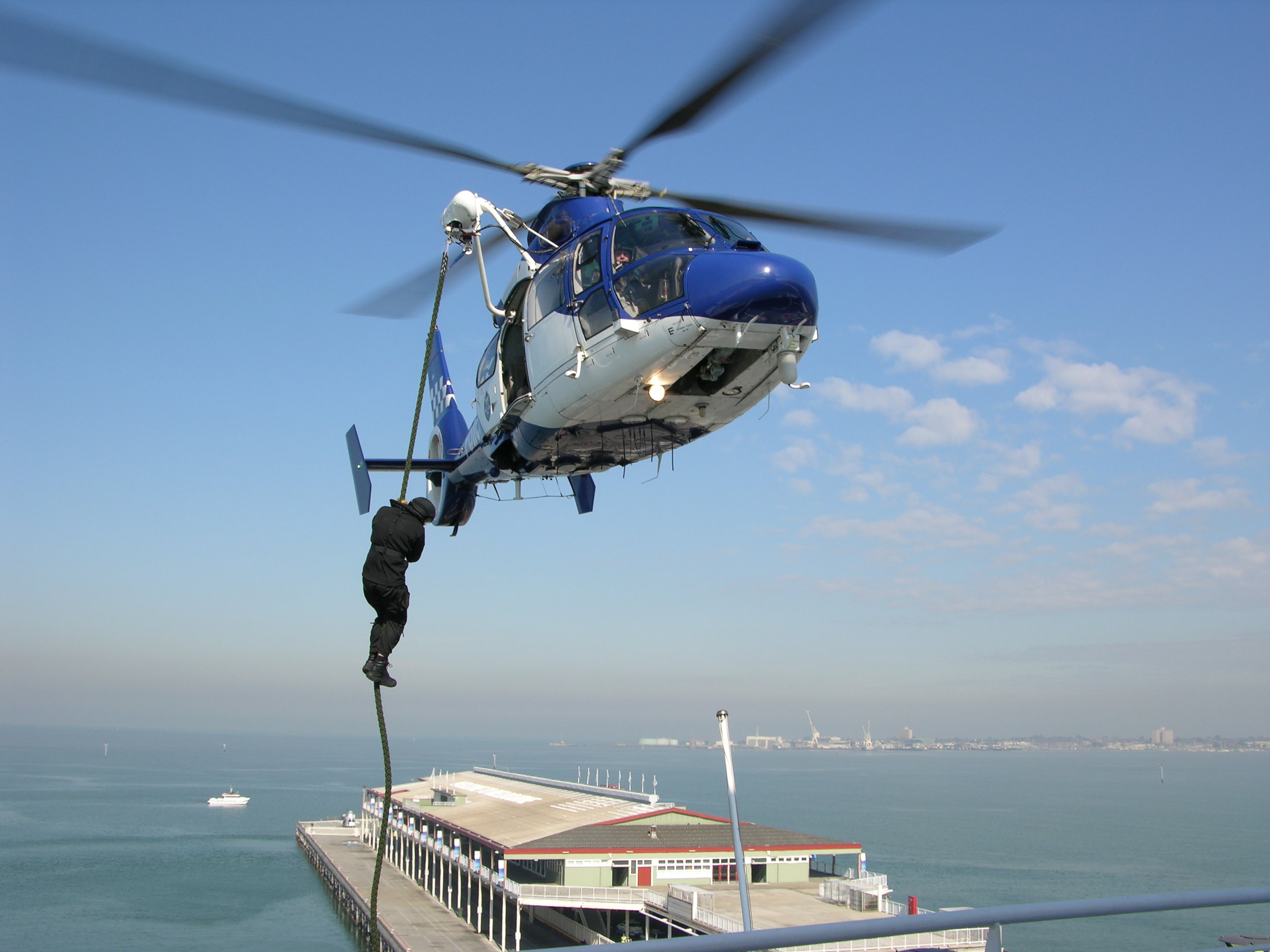 We have previously worked on police conversions for aircraft including AS365, EC145, EC130B4, BK117 and AS350. We are experienced in providing reliable design solutions for:
- Night Vision Goggle (NVG) compatible lighting
- Fast roping systems
- Rappelling systems
- Audio / Communications system design
- FLIR camera installations
- Searchlight installations
- Workstation design and manufacture
- Weapons mounts and stowage racks
Surveillance / Search & Rescue
Our surveillance aircraft conversion experience includes design and implementation of:
- FLIR camera installations
- Searchlight installations
- Rescue equipment design and testing (harnesses, restraint systems)
- Operator workstations and equipment racks
- Stores dropping
- Rescue stretcher installations
- Loud hailer and public address system installations
- Aerial survey camera installations
Corporate Jet Modifications
Our work on corporate jet interior modifications includes:
- Cabin configuration changes
- In-flight entertainment system installations
- Avionics upgrades
- Mobile phone installations
- Audio system upgrades
- Galley and toilet installations
- Storage cabinets
- Passenger tray tables
- Interior trim upgrades
Passenger to Freighter Conversions
Five Rings Aerospace has worked with clients in Australia and Papua New Guinea to deliver local certification for passenger to freighter conversions on DHC-8 and ATR42 Aircraft.
Unmanned Aircraft Systems
We are experienced in conducting a range of design and analysis activities:
- Preparation of Flight & Maintenance Manuals
- Conceptual design & requirements analysis
- System Safety Assessments in (accordance with UAS 1309, SAE ARP 4754A and SAE ARP 4761)
- System Architecture & Operational Equipment
- Structural & Mechanical Analysis & Development
- Electrical, Avionics & Other Systems Integration
- Electrical Loads Analysis
- Developmental Flight Test Programs
- Type certification programs
- Production
Large or Small, we can get your Unmanned Aircraft flying. Photos courtesy of Silvertone UAV.